Will it Roll? is a YouTube series created by FailRace. It is one of the most famous series.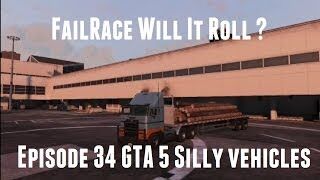 35 "official" episodes have been uploaded; the first on 3 March 2013 and the last on 27 October 2013.
The series was initially played on Forza 4 where it remained for 29 of the 35 episodes. After 7 of these videos, each episode was given an individual theme and the series occassionally moved games and consoles (i.e. 'World of Tanks', 'GTA 5' etc.).
Episodes
[
]
| # | Game | Released | Notes/Theme |
| --- | --- | --- | --- |
| 1 | Forza 4 | 3 March 2014 | None |
| 2 | Forza 4 | 10 March 2013 | None |
| 3 | Forza 4 | 17 March 2013 | None |
| 4 | Forza 4 | 24 March 2013 | None |
| 5 | Forza 4 | 31 March 2013 | None |
| 6 | Forza 4 | 7 April 2013 | None |
| 7 | Forza 4 | 14 April 2013 | With Daniel, Tandem Rolling |
| 8 | Forza 4 | 21 April 2013 | Tuner Tuesday Cars |
| 9 | World of Tanks | 28 April 2013 | Using Tanks |
| 10 | Forza 4 | 5 May 2013 | Muscle Cars |
| 11 | Forza 4 | 12 May 2013 | Japanese Cars |
| 12 | Forza 4 | 19 May 2013 | Supercar Edition |
| 13 | Forza 4 | 26 May 2013 | Auction House Cars |
| 14 | Forza 4 | 2 June 2013 | 4WD |
| 15 | Forza 4 | 9 June 2013 | British Cars |
| 16 | Forza Horizon | 16 June 2013 | Cars not on 'Forza 4' |
| 17 | Forza 4 | 23 June 2013 | TV / Movie Cars |
| 18 | F1 2012 | 30 June 2013 | F1 Edition |
| 19 | Forza 4 | 7 July 2013 | Reverse Rolling |
| 20 | Forza 4 | 14 July 2013 | Electric + Hybrid |
| 21 | Forza 4 | 21 July 2013 | Simultanious Rolling - 15 Car |
| 22 | Forza 4 | 28 July 2013 | Race Cars |
| 23 | Forza 4 | 4 August 2013 | Rally Cars |
| 24 | Forza 4 | 11 August 2013 | Porsche 911, 50th Anniversary |
| 25 | Forza 4 | 18 August 2013 | Drift Cars |
| 26 | Forza 4 | 25 August 2013 | Unicorn Cars |
| 27 | Forza 4 | 1 September 2013 | TV / Movie Cars |
| 28 | Forza 4 | 8 September 2013 | Special - What Makes a Car Roll? |
| 29 | Forza 4 | 14 September 2013 | Top Gear Challenge Cars |
| 30 | Gran Turismo 5 | 22 September 2013 | GT 5 Cars |
| 31 | Forza 4 + GTA 5 | 29 September 2013 | World Record Roll |
| 32 | Forza 4 | 6 October 2013 | Oldest Cars |
| 33 | Forza 4 | 13 October 2013 | Gymkhana Cars |
| 34 | GTA 5 | 20 October 2013 | "Silly Vehicles" |
| 35 | Forza 4 | 27 October 2013 | 'VS The Community' Cars |
External links
[
]